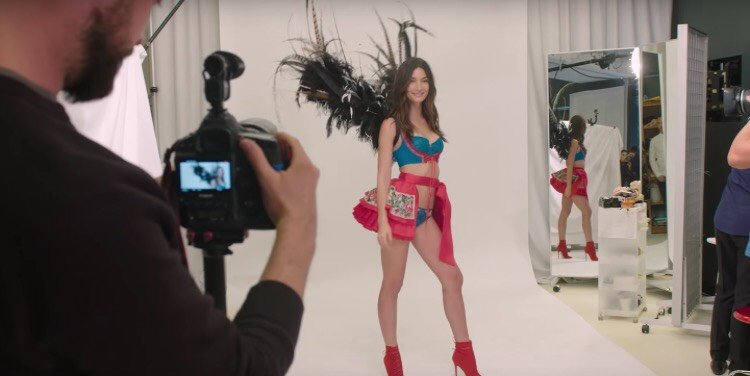 MOOD Management vi porta all'interno del Il Victoria's Secret Fashion Show è unk degli eventi fashion più attesi in tutto il mondo, non solo per la meravigliosa lingerie ma anche (non nascondiamolo) per le bellissime modelle che sfileranno. Quest'anno l'evento è previsto il 30 novembre e verrà trasmesso il 5 dicembre su CBS. Saranno in tantissimi a guardare lo show che per la prima volta non si terrà a New York, ma bensì a Parigi, al Grand Palais, l'incantevole location preferita di Chanel.


Per il Victoria's Secret Fashion Show 2016 sfileranno ben 52 angeli tra cui ritroveremo Alessandra Ambrosio, Adriana Lima, Kendal Jenner e Gigi Hadid, ma anche Bella Hadid, sua sorella minore che sfilerà per la prima volta il lingerie. Ci saranno anche due attesi grandi ritorni, quelli di Irina Shayk e di Karlie Kloss.


A indossare il Fantasy Bra 2016, questa volta sarà la stupenda Jasmine Tookes. Il Bright Night è un vero e proprio gioiello dal valore di 3 milioni di dollari, composto da 9 mila pietre preziose tra smeraldi e diamanti per un totale di oltre 450 carati.


Per quanto riguarda l'intrattenimento musicale, quest'anno sale sulla passerella del Victoria's Secret Fashion Show per la prima volta Lady Gaga, insieme a Bruno Mars e ai The Weekend.


Nell'attesa del 30 novembre, anzi della messa in onda del 5 dicembre, possiamo però gustarci qualche foto in anteprima e un video in cui sono state riprese tutte le fasi di progettazione: dagli artigiani che hanno creato gli outfit ai casting per la selezione degli angeli più belli del mondo, ma non solo, potremo soprattutto sbirciare quali saranno i capi che indosseranno per lo show.
MOOD MANAGEMENT ecco un approfondimento:
The Victoria's Secret Fashion Show is an annual fashion show sponsored by and featuring Victoria's Secret, a brand of lingerie and sleepwear. Victoria's Secret uses the show to promote and market its goods in high-profile settings. The show features some of the world's leading fashion models such as current Victoria's Secret Angels Adriana Lima, Alessandra Ambrosio, Behati Prinsloo, Candice Swanepoel, and Lily Aldridge.
American network television broadcasts the show during prime time. The first few shows in the 1990s were held in the days preceding Valentine's Day to promote the brand for this holiday. They were not aired on national television. In 1999 and 2000 the show was webcast. Beginning in 2001, the shows were moved ahead of the Christmas holiday season. Also in 2001, the show made its network television broadcast on ABC, though in all subsequent years, it has been broadcast on CBS. The show has been held at a variety of locations in different cities including Miami, Los Angeles, Cannes, and London. The first four shows were held at the Plaza Hotel in New York City, but since it has become a televised event it has most often been held at the 69th Regiment Armory in New York City.
The show is a lavish event with elaborate costumed lingerie, varying music by leading entertainers, and set design according to the different themes running within the show. The show attracts hundreds of celebrities and entertainers, with special performers and acts every year. Each year, twenty to forty of the world's top fashion models are selected to perform in the fashion show. In a typical year, this includes about a half dozen women under contract to the company,[1] known as Victoria's Secret Angels, who help publicize the event. The giant angel wings worn by the models, as well as other wings of various forms and sizes such as butterfly, peacock, or devil wings, have become emblematic of the Victoria's Secret brand.
di MOOD MANAGEMENT